What are the goals of SLIDER?
Design and implement a problem-based robotics curriculum as a context for 8th graders to learn physics and reasoning skills, and as a way to increase student engagement, motivation, aptitude, creativity and STEM interest.
Conduct research to determine the effectiveness of the program across all curriculum development parameters.
Determine how students engage the material across ethnic, socio- cultural, gender and geographic (rural, urban, and suburban) lines.
Measure the "staying power" of the experience as students move from middle to high school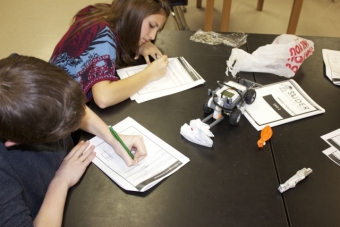 What are the curriculum components of SLIDER?
Aligns with NGSS Disciplinary Core Ideas, Cross Cutting Concepts, and Practices 
Uses engineering design scenarios to engage and motivate students 
Necessitates scientific argumentation to develop ideas and make decisions
Features LEGO Mindstorm Kits to drive design and engagement
Emphasizes where science and engineering align during problem solving
                                               What are the research components of SLIDER?
Georgia Tech's Center for Education Integrating Science, Mathematics, and Computing (CEISMC,  like "seismic") houses the SLIDER Project. Currently, in its fourth year of a 5-year DRK-12 grant award, the SLIDER Project is examining the effect a middle-school, project-based learning (PjBL) curriculum integrating engineering design and robotics has on a number educational research outcomes, including: student learning of NGSS core ideas and practices; teacher and student self-efficacy;  use of robotic manipulatives in classrooms; curriculum design; and teacher enactment of such PjBL units. The units have been iteratively designed and tested in classrooms spanning diverse ethnic, socio-cultural, gender and geographic lines. ​